rackmount MPEG analyzer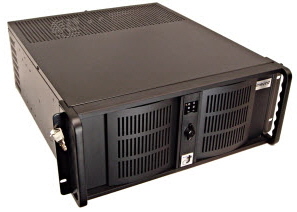 Designed for studio and headend installations in DTV networks, StreamScope MT-50R is a powerful MPEG analyzer for advanced transport stream troubleshooting.
Centralized MPEG analysis
This full-featured rackmount server supports RF, SMPTE, ASI, QAM, DVB, 1 GigE, and 10 GigE inputs. It analyzes up to ten inputs at a time, monitors video and audio quality, verifies standards compliance, and displays drill-down metadata details.
With multiple inputs and remote monitoring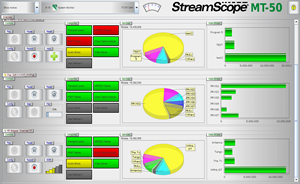 StreamScope MT-50R can analyze up to ten MPEG transport stream inputs simultaneously. (Click to enlarge.)
With its Linux-based OS and multiple inputs, the MT-50R can improve video and audio quality across your DTV network. It can communicate with StreamScope transport stream monitors to display a single, unified QoS dashboard. And engineers can access its dynamic at-a-glance user interface on-site or via the Internet.