portable MPEG analyzer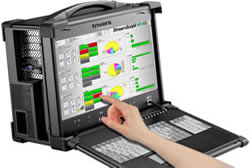 StreamScope MT-50 HDT is a high-capacity professional analyzer with a high-definition touchscreen. Now you can troubleshoot MPEG transport streams at the touch of a finger.
Multiple input MPEG analysis
This rugged portable MPEG analyzer handles simultaneous RF, SMPTE, ASI, QAM, DVB, 1 GigE, and 10 GigE inputs. With pinpoint accuracy, the MT-50 HDT analyzes video and audio quality, regulatory compliance, metadata problems, and more.
With a high-resolution touchscreen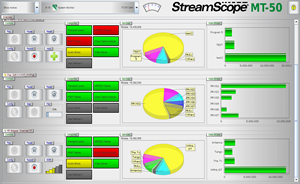 StreamScope MT-50 HDT puts real-time multiple-input MPEG analysis at your fingertips (Click to enlarge.)
With its touch-screen user interface, StreamScope MT-50 makes MPEG troubleshooting faster and easier. You can configure analysis rules, select performance parameters, customize dashboards, and resize charts and graphs to create an efficient, personalized tool with on-site and Internet access.