EPG generator for cable TV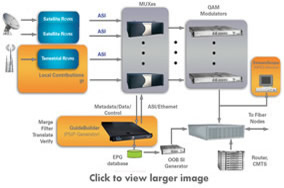 Cable operators need to provide electronic program guides for QAM tuners, DVB-SI STBs, and MDU installations. That's why they need GuideBuilder 5, the leading EPG metadata generator.
For all CATV network types

GuideBuilder 5 ingests schedule listings, generates PSIP/DVB-SI/SCTE-65 metadata, and can send outputs for hundreds of channels. GuideBuilder 5 makes it easy to manage EPGs in an all-digital network infrastructure.
Generates clear-QAM, DVB-SI, and MDU metadata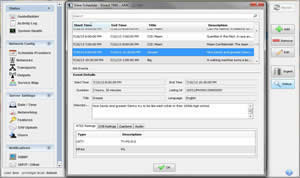 GuideBuilder 5 generates PSIP, DBV-SI, and SCTE-65 data for CATV services in one unified system. (Click to enlarge.)
This Linux-based system provides mission-critical reliability, email error alerts, and a simplified web-based GUI. Available as server and software-only options, GuideBuilder 5 speeds deployments, streamlines workflows, and ensures a superior program guide experience for clear-QAM, DVB-SI, and MDU viewers.