high-capacity CALM monitor

The StreamScope RM-50 Ultra CALM loudness monitor measures, analyzes, and records LKFS levels for up to 50 MPEG audio streams to ensure viewer QoS and FCC CALM Act compliance.
Ensures CALM Act compliance for CATV operators

The RM-50 Ultra CALM can perform scheduled and on-demand spot checks on up to 50 audio streams simultaneously. To provide this high capacity, these 1RU servers have two card slots and can handle single or Quad ASI and GigE inputs.
Locates loud commercials with 24-hour spot checks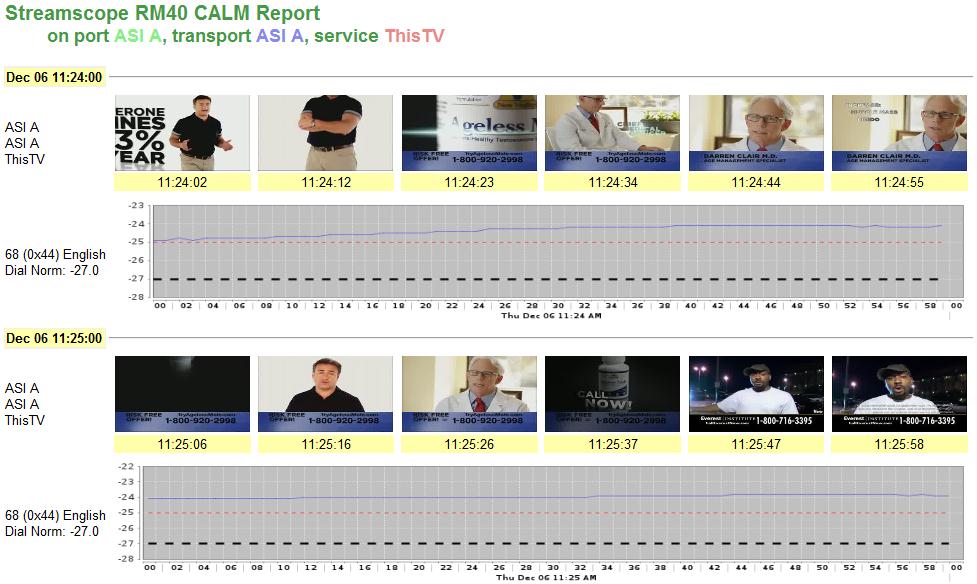 Detailed CALM reports with video thumbnails and dialnorm graphs identify loud commercials. (Click to enlarge.)
Automatic and on-demand 24-hour spot checks generate detailed CALM compliance reports for services and PIDs. CALM reports include drill-down loudness graphs and video thumbnails showing when loud commercials occurred. For troubleshooting on the go, loudness alerts are sent via email, SNMP, and SMS.