Triveni Digital to Share ATSC 3.0 Interactivity Strategies and More at 2023 NAB Show and Co-Located Events
Visit Triveni Digital at the 2023 NAB Show, Booth W3251
PRINCETON, N.J. - March 28, 2023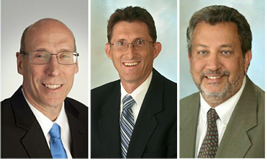 Triveni Digital today announced that the company's executives will share their ATSC 3.0 expertise and practical deployment strategies at the 2023 NAB Show and at co-located events leading up to the show. Through various sessions, Triveni Digital's team of NEXTGEN TV experts will offer broadcasters a wealth of information on navigating the complex deployment phase of ATSC 3.0 and discovering its rising potential for interactivity, implementing a broadcast positioning system, and other capabilities.
"ATSC 3.0 is the next generation of television, and we're excited to share how broadcasters can enhance their revenues in the new age of NEXTGEN TV," said Ralph Bachofen, vice president of sales and marketing at Triveni Digital. "At the 2023 NAB Show, we'll share our strategies for how to transition to NEXTGEN TV smoothly while advising on optimal bandwidth speeds, providing tips for delivering revenue-enhancing datacasting services, and examining other unique ways that this new standard can be utilized."
Triveni Digital's team of experts will share insights on ATSC 3.0 at the following events:
The Broadcast Engineering and Information Technology Conference
Mark Corl, senior vice president of emergent technology development at Triveni Digital, will co-present a "Case Study of Developing an Emission Time Stabilization Proof-of-Concept Prototype for ATSC 3.0-based Broadcast Positioning System (BPS)." The session will discuss the potential of ATSC 3.0 as a backup for a Global Positioning System on Saturday, April 15, at 3 p.m. in West Hall, W219-W221.
The Society of Broadcast Engineers (SBE) Ennes Workshop
Triveni Digital will present several sessions on ATSC 3.0 at the workshop in the Westgate Resort, meeting rooms 7-10 from April 14 to 15:

Dave Catapano, senior vice president of engineering, will share insights on NEXTGEN TV signaling protocols on Wednesday, April 14, at 1:30 p.m.
Ralph Bachofen, vice president of sales and marketing, will discuss ATSC 3.0 test equipment on Wednesday, April 14, at 4:30 p.m.
Mark Corl will examine BA/RA and IP-based services on Thursday, April 15, at 1 p.m.

The Public Media Venture Group's Technology Summit
"Differentiating & Innovating with NEXTGEN TV Content" will be presented by Mark Corl on Thursday, April 13 at 9 a.m. at the Renaissance Las Vegas Hotel. In addition, Corl will present a session on "Improving ATSC 3.0 Coverage With SFNs and On-Channel Repeaters" on April 13, at 11:45 a.m.
Triveni Digital will showcase its suite of ATSC 3.0 solutions at the 2023 NAB Show, booth W3251. More information about Triveni Digital products is available at www.TriveniDigital.com.
# # #
About Triveni Digital
Triveni Digital is a leading provider of program guide and metadata management, data broadcasting, and video quality assurance solutions for broadcasters and service providers. Renowned for their ease of use and innovative features, Triveni Digital's solutions enable customers to deliver enhanced programs and services to television viewers. Working with leading industry partners, Triveni Digital employs an open and standards-compliant approach to the digital television market. As a leader in ATSC 3.0 solutions, a key contributor to standards development, and active participant in next-generation ATSC trials and deployments, Triveni Digital is leading the charge to a new, exciting broadcast television future. More information is available at
www.TriveniDigital.com
.
Note to Editors: When referring to Triveni Digital, please use the complete company name, "Triveni Digital." Product and company names mentioned herein are the trademarks or registered trademarks of their respective owners.
Follow Triveni Digital:
Facebook:https://www.facebook.com/pages/Triveni-Digital/137957436263401
Twitter:https://twitter.com/TriveniDigital
LinkedIn:http://www.linkedin.com/company/32484?trk=tyah