Triveni Digital and Thomson Broadcast Team Up to Simplify ATSC 3.0 Delivery With NEXTGEN TV Network Operations Center
Integration Between Triveni Digital and Thomson Broadcast Ensures Superior NEXTGEN TV Service Quality for Broadcasters
Visit Triveni Digital at the 2023 NAB Show, Booth W3251
PRINCETON, N.J. - April 13, 2023

Triveni Digital today announced that it is expanding its partnership with Thomson Broadcast to streamline ATSC 3.0 service delivery. Triveni Digital's StreamScope® XM Analyzer and Monitor are now integrated with Thomson Broadcast's Channel in the Cloud solution, enabling broadcasters to deliver outstanding-quality NEXTGEN TV services and build robust, intelligent Network Operation Centers (NOC).
"As we move past the initial deployment phase of ATSC 3.0 to monetization, assuring broadcast service quality is critical for continued business success," said Mark Simpson, president and CEO of Triveni Digital. "Integrating our StreamScope XM with Thomson Broadcast's Channel in the Cloud enables broadcasters to quickly pinpoint the quality of service issues so that they can deliver a high-quality, engaging, and interactive NEXTGEN TV experience to viewers."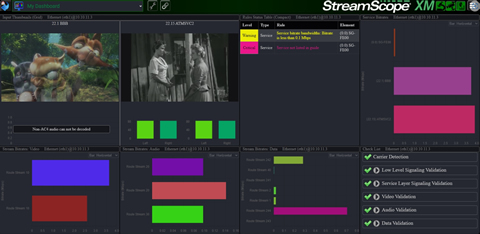 Click to enlarge.
Expanded integration between ATSC 3.0 solutions from Triveni Digital and Thomson Broadcast provides broadcasters with a single point of view for managing the broadcast chain. Leveraging Triveni Digital's StreamScope XM, broadcasters can perform complete real-time analysis of ROUTE, MMTP, and STLTP streams from RF, Ethernet, and file inputs at multiple delivery points. In addition, they can perform advanced, real-time monitoring of ATSC 3.0 streams and create rules-based notifications to pinpoint and rapidly troubleshoot NEXTGEN TV service quality issues. Triveni Digital's ATSC 3.0 Broadcast Gateway, GuideBuilder® XM Transport Encoder, and GuideBuilder Cloud SaaS are also integrated with Thomson Broadcast's Channel in a Cloud solution.
Thomson Broadcast's cloud solution enables broadcasters to create, manage, monetize, and deliver broadcast signals, including over the air (OTA) and OTT, through an innovative and robust channel in the cloud application. The Channel in the Cloud solution comprises ATSC 3.0 playout to signal encoding and distribution, bringing a more interactive and immersive experience to viewers.
"We are excited to expand our partnership with Triveni Digital and be at the forefront of ATSC 3.0 deployments," said Aby Alexander, president of Thomson Broadcast, USA. "Quality assurance is a critical requirement for monetizing ATSC 3.0 services. By joining forces with Triveni Digital, we can ensure exceptional NEXTGEN TV NOCs for broadcasters, streamlining their ability to monitor and deliver ATSC 3.0 offerings."
Both companies will demonstrate their solutions at the 2023 NAB Show, April 16-19 in Las Vegas at the Thomson Broadcast (W2933) and Triveni Digital (W3251) booths. More information about Triveni Digital products is available at www.TriveniDigital.com.
# # #
Company Overview
Triveni Digital is a leading provider of program guide and metadata management, data broadcasting, and video quality assurance solutions for broadcasters and service providers. Renowned for their ease of use and innovative features, Triveni Digital's solutions enable customers to deliver enhanced programs and services to television viewers. Working with leading industry partners, Triveni Digital employs an open and standards-compliant approach to the digital television market. As a leader in ATSC 3.0 solutions, a key contributor to standards development, and active participant in next-generation ATSC trials and deployments, Triveni Digital is leading the charge to a new, exciting broadcast television future. More information is available at
www.TriveniDigital.com
.
Note to Editors: When referring to Triveni Digital, please use the complete company name, "Triveni Digital." Product and company names mentioned herein are the trademarks or registered trademarks of their respective owners.
Follow Triveni Digital:
Facebook:https://www.facebook.com/pages/Triveni-Digital/137957436263401
Twitter:https://twitter.com/TriveniDigital
LinkedIn:http://www.linkedin.com/company/32484?trk=tyah