Triveni Digital to Discuss ATSC 3.0 Revenue Opportunities for Christian Broadcasters at NRB 2023
PRINCETON, N.J. - May 16, 2023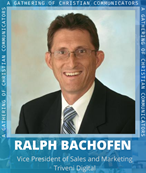 Triveni Digital today announced that the company's vice president of sales and marketing, Ralph Bachofen, will share his insights on ATSC 3.0 during a workshop at the NRB 2023 International Christian Media Convention in Orlando, Florida. During the panel discussion "New Revenue Opportunities for Christian Broadcasters Through ATSC 3.0," Bachofen and other NEXTGEN TV experts will explore new ATSC 3.0 business opportunities for Christian broadcasters and outline the technical components required for deployment.
"NEXTGEN TV is the future of television, offering immense revenue potential to Christian broadcasters," said Bachofen. "My session at NRB 2023 will highlight how broadcasters can take advantage of NEXTGEN TV, particularly datacasting in the ATSC 3.0 environment, to drive new revenue streams."
The panel session will cover ATSC 3.0 implementation strategies and outline the benefits of NEXTGEN TV for content creators and those seeking greater distribution. Bachofen will join esteemed panelists including Ali Dernaika, senior solutions architect of digital video services at Hewlett Packard; Joshua Weiss, co-founder and CEO at ARK Multicasting; Mark Andrew Aitken, president of ONE Media; and Imran Syed, senior RAN manager at Trilogy NextGen.
Bachofen is an expert on the role of metadata in the effective provision and monitoring of DTV services in ATSC 1.0 and ATSC 3.0 infrastructures. He will bring more than 30 years of experience in ATSC and IP technologies to the NRB 2023 panel discussion.
The NRB 2023 workshop will take place on Tuesday, May 23, from 1:15 to 2 p.m. Eastern Daylight Time. More information about the session and event registration details are available here.
# # #
Company Overview:
Triveni Digital is a leading provider of program guide and metadata management, broadcast stream encoding, data broadcasting, and service quality-assurance solutions for broadcasters and service providers. Renowned for their ease of use and innovative features, Triveni Digital's solutions enable customers to deliver enhanced programs and services to television viewers. Working with leading industry partners, Triveni Digital employs an open and standards-compliant approach to the digital television market. As a leader in ATSC 3.0 solutions, a key contributor to standards development, and an active participant in next-generation ATSC trials and deployments, Triveni Digital is leading the charge to a new, exciting broadcast television future. More information is available at
www.TriveniDigital.com
.
Note to Editors: When referring to Triveni Digital, please use the complete company name, "Triveni Digital." Product and company names mentioned herein are the trademarks or registered trademarks of their respective owners.
Follow Triveni Digital:
Facebook:https://www.facebook.com/pages/Triveni-Digital/137957436263401
Twitter:https://twitter.com/TriveniDigital
LinkedIn:http://www.linkedin.com/company/32484?trk=tyah