Triveni Digital, PBS North Carolina, and Device Solutions Win Prestigious NAB Technology Innovation Award
Groundbreaking Solution Featuring ATSC 3.0 Datacasting Technology Honored at the 2023 NAB Show
PRINCETON, N.J. - April 18, 2023

Triveni Digital today announced that the company, PBS North Carolina, and Device Solutions Inc. are the recipients of the 2023 NAB Technology Innovation Award for "Demonstration of an ATSC 3.0 Solution for Emergency Paging." The National Association of Broadcasters (NAB) honored the three entities for their groundbreaking, end-to-end proof-of-concept solution that delivers emergency digital pages leveraging ATSC 3.0 datacasting technology.
"We are thrilled to present the Technology Innovation Award to PBS North Carolina, Device Solutions, and Triveni Digital," said Sam Matheny, executive vice president and chief technology officer, NAB. "We've watched this technology develop from conception through design and now a real-life demonstration at the NAB Show. Winning the award is the culmination of the outstanding work from three industry visionaries."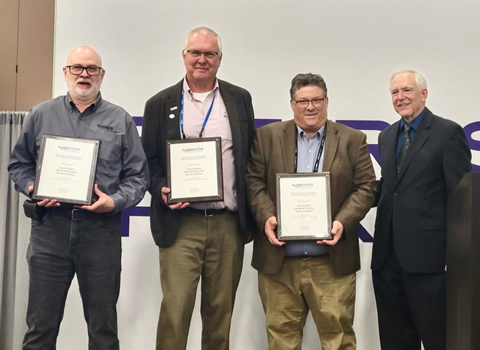 The solution created by PBS North Carolina, Device Solutions, and Triveni Digital enables more efficient, reliable, and secure delivery of emergency information with better coverage, significantly advancing the current state of emergency paging technology. Leveraging ATSC 3.0 datacasting, first responders can deliver a massive volume of data quickly to many receivers at the same time, allowing them to reach the public faster during an emergency.
"We're extremely proud to be a part of this groundbreaking project," said Fred Engel, chief technology officer at PBS North Carolina. "We began this effort with Red Grasso, director of the First Responder Emerging Technologies (FirstTech) Program at the State of North Carolina. In an emergency, every second counts toward potentially saving a life, and with our solution, emergency notifications can be sent to first responders more efficiently, over a greater distance, and with more content than ever before."
We're excited to bring this transformational ecosystem to life," said Chris Lamb, chief executive officer at Device Solutions. "As the world's first prototype ATSC 3.0 datacasting solution for emergency digital paging, our proof-of-concept solution will be a game changer for state and county emergency services, federal agencies, and broadcasters."
"We're deeply honored to win the esteemed NAB Technology Innovation Award," said Mark Simpson, president and CEO at Triveni Digital. "We want to thank the NAB for recognizing the pioneering work and collaboration that went toward creating an ATSC 3.0 solution for emergency paging."
Triveni Digital, PBS North Carolina, and Device Solutions were presented with the award during a special ceremony on April 17 at the 2023 NAB Show. The NAB Technology Innovation Award honors organizations that bring advanced technology exhibits and demonstrations of significant merit to the NAB Show. The winning demonstration features advanced research and development projects in communications technologies that have not yet been commercialized.
More information about Triveni Digital products is available at www.TriveniDigital.com.
# # #
About Triveni Digital
Triveni Digital is a leading provider of program guide and metadata management, data broadcasting, and video quality assurance solutions for broadcasters and service providers. Renowned for their ease of use and innovative features, Triveni Digital's solutions enable customers to deliver enhanced programs and services to television viewers. Working with leading industry partners, Triveni Digital employs an open and standards-compliant approach to the digital television market. As a leader in ATSC 3.0 solutions, a key contributor to standards development, and active participant in next-generation ATSC trials and deployments, Triveni Digital is leading the charge to a new, exciting broadcast television future. More information is available at
www.TriveniDigital.com
.
About PBS North Carolina
As North Carolina's statewide PBS network serving the country's third largest public media market, PBS North Carolina educates, informs, entertains and inspires its audience on air, online and in person. Through its unique partnership of public investment and private support, the network includes in-person engagement, digital-first social and online content delivery and four over-the-air channels: PBS NC, the North Carolina Channel, Rootle 24/7 PBS KIDS channel and the Explorer Channel. Its transformational events and content spark curiosity and wonder for all North Carolinians. Additionally, PBS North Carolina serves as the backbone for North Carolina's state emergency services. To learn more about PBS North Carolina, visit
pbsnc.org
or follow us on Facebook, Instagram and Twitter.
About Device Solutions
Device Solutions, an embedded engineering services firm in Research Triangle Park, has years of expertise in bringing cutting-edge technology into existence. We are experts in wireless design, and have broad experience in the development of electronic devices across a variety of markets - medical, asset tracking, remote monitoring and control, consumer electronics, home and office automation, utilities, and emergency services. Started in 2003, Device Solutions has grown from a concept to the R&D department for Fortune 500 companies and individuals with extraordinary ideas. We were proud to work with Triveni Digital, PBS NC, WRC, and FirstTech to bring ATSC 3.0 emergency paging to life. Visit
device-solutions.com
and connect with us on LinkedIn.
Note to Editors: When referring to Triveni Digital, please use the complete company name, "Triveni Digital." Product and company names mentioned herein are the trademarks or registered trademarks of their respective owners.
Follow Triveni Digital:
Facebook:https://www.facebook.com/pages/Triveni-Digital/137957436263401
Twitter:https://twitter.com/TriveniDigital
LinkedIn:http://www.linkedin.com/company/32484?trk=tyah