Triveni Digital's StreamScope® Portal Ranks High
in Renowned Cable Technology Review Program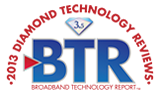 Visit Triveni Digital at SCTE Cable-Tec Expo® 2013, Booth 1729
PRINCETON, N.J. - September 30, 2013
Triveni Digital today announced that its StreamScope® Portal received a 3.5 rating in Broadband Technology Report's (BTR) 2013 Diamond Technology Reviews, a renowned industry program that recognizes the most innovative cable industry products and solutions. Built on the industry's most comprehensive MPEG quality assurance technology, Triveni Digital's StreamScope Portal is a new portable, tablet-based MPEG analysis and monitoring tool that allows convenient, cost-effective maintenance and troubleshooting of DTV quality in complex video distribution infrastructures, enabling cable operators to deliver a higher quality experience to viewers.
"BTR's Diamond Technology Reviews honor products and solutions that we think will have a significant impact on the cable industry," stated Steve Johnson, Diamond Technology Review Program Director for Broadband Technology Report. "During the review process, the judges found Triveni Digital's StreamScope Portal to be a user-friendly solution for regional video networks, offering cable operators a great packaging option, leveraging tablet advances. One judge commented that, 'Up until now, it has been a challenge to perform MPEG monitoring and analysis with cost-effective equipment.' Combined with the platform's comprehensive functionality, small form factor, and cost-saving benefits for cable operators, these factors led the judges to award the StreamScope Portal a superior rating."
Through a personal, touch-based, ultra-portable form factor, StreamScope Portal enables engineers to rapidly perform file-based or real-time MPEG-2/MPEG-4 analysis and troubleshooting of DTV transport streams with Gigabit Ethernet, ASI and RF interfaces. StreamScope Portal's small form factor and innovative touch-based user interface bring the most powerful tools available to any location, with the ultimate ease of use, reducing the time it takes to detect, isolate, and repair video impairments that impact the quality of the viewer's experience.
"We're thrilled to receive a high rating in BTR's Diamond Technology Reviews, one of the cable industry's premier technology awards programs," said Ralph Bachofen, vice president of sales and head of marketing at Triveni Digital. "As the industry's first and only ultra portable MPEG analysis and troubleshooting tool, StreamScope Portal solves cable operators' greatest challenge, enabling them to cost-effectively monitor any point in the DTV infrastructure and deliver a superior presentation to customers."
Diamond Technology Review rankings are determined by a prestigious panel of cable telecommunications engineering experts, including engineering executives from Boyer Broadband, Time Warner Cable, Brighthouse Networks, Suddenlink Communications, Comcast, Charter, and Cox. Technology submissions are ranked on a scale of 1 to 5 according to a variety of criteria, such as innovation, ease of use, efficiency, reliability, and contribution to profitability.
Triveni Digital will demonstrate the StreamScope Portal at SCTE Cable-Tec Expo®, booth 1729, Oct. 21-24, in Atlanta. More information about Triveni Digital products is available at www.TriveniDigital.com.
# # #
About Broadband Technology Report
Broadband Technology Report (BTR), celebrating its 9th anniversary in 2013, is the cable and telecom industry's premier source for product and technology news, and is the most successful and fastest growing online outlet for product information and deployments, reviews and rankings, technology expertise, and buyer/seller facilitation. BTR's portfolio includes online, print, and video assets, all designed to help network operators build, upgrade, and maintain high-performance communications networks. BTR, backed by more than 70 years of combined industry experience, delivers its email, online, print, and video production services to more than 19,500 subscribers. If you are interested in subscribing, consult http://btreport.net. BTR is owned by PennWell Corporation.
About the Diamond Technology Review program
The BTR Diamond Technology Reviews ("the Diamonds") is a renowned industry program - now in its ninth year - that was developed to recognize some of the top products and solutions available to the cable industry as determined by a stellar panel of cable telecommunications engineering experts. Engineering executives from Bright House, Buckeye, Comcast, MediaComm, Rogers, Suddenlink, and Time Warner Cable were among the third-party judges for the 2013 Diamonds. Every year, BTR invites vendors to submit written information about products/solutions that have been released or upgraded since the previous year's SCTE Cable-Tec Expo (October 2012). Criteria used in the Diamonds rankings include, first and foremost, unique technology or application thereof, innovation, ease of use, efficiency, reliability and contribution to profitability.
About Triveni Digital
Triveni Digital develops systems that enable television service providers and broadcasters to deploy enhanced programs and services to their viewers. Triveni Digital's products for program guide and metadata management, data broadcasting, and video quality assurance are renowned for their ease of use and innovative features. Working with leading industry partners, Triveni Digital employs an open and standards-compliant approach to the digital television market. More information is available at
www.TriveniDigital.com
.
Note to Editors:
When referring to Triveni Digital, please use the complete company name, "Triveni Digital." Product and company names mentioned herein are the trademarks or registered trademarks of their respective owners.
Follow Triveni Digital:
Facebook:https://www.facebook.com/pages/Triveni-Digital/137957436263401
Twitter:https://twitter.com/TriveniDigital
LinkedIn:http://www.linkedin.com/company/32484?trk=tyah